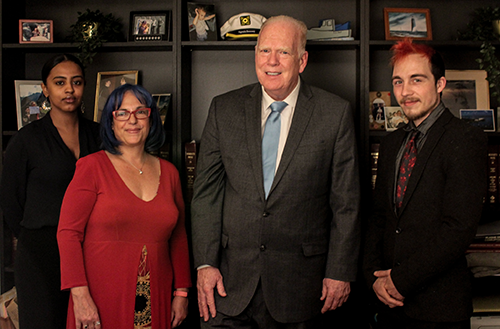 Our Philosophy
The Law Offices of Paul J. Sweeney employs caring individuals ready to support the families they represent. For over 30 years, Attorney Paul J. Sweeney has served clients in Norfolk, Plymouth, Suffolk, Barnstable, Bristol, and Middlesex Counties, and throughout Eastern Massachusetts. Contact us today!
Throughout his practice, Attorney Paul J. Sweeney has maintained his sound reputation in the legal community, by providing clients with the support and guidance they need in the complicated financial and emotional aspects of family and probate law. To ensure your rights are protected, it is essential to employ a skilled, even-keeled, and knowledgeable divorce lawyer.
When it comes to the well-being of your family, you deserve the best legal representation available. From the moment you contact the Law Offices of Paul J. Sweeney, you will be provided with professional and compassionate family law services specifically tailored to fit your legal needs. Based on experience and commitment, Massachusetts family law Attorney Paul J. Sweeney is dedicated to handling his client's sensitive and emotional issues with dignity, understanding, and tact, while taking great lengths to minimize the financial and emotional costs associated with divorce. The Law Offices of Paul J. Sweeney located in downtown Boston is a central location for all clients to receive organized, comprehensive, long-term solutions for all family and probate court needs. We will make arrangements to meet you at a convenient location if you are unable to come to Boston.
The Law Offices of Paul J. Sweeney serves a diverse array of clients who depend on Attorney Paul J. Sweeney's experience, reputation, and steady hand to protect their rights and guide them through complex and often heart-wrenching legal issues. He equally represents both men and women on family law issues. The Law Offices of Paul J. Sweeney are compassionate towards their clients and care about the effect of the legal proceeding on their families. We strive to keep fees affordable for all of our clients by effectively using technology, allocating tasks accordingly, and working toward a resolution.
By keeping my clients informed and educated about the process, I work with the clients to reach an equitable divorce, pursuing a strategy which will cause the least emotional and financial pain to my client and his or her family. My firm is very experienced at what we do and we strive to achieve our client's desired results. – Attorney Paul J. Sweeney